Named after the miraculous stone that allowed archeologists to decipher the hieroglyphics of ancient Egypt, Rosetta is a space probe, launched in 2004. Its mission is to make contact with a comet sometime this November. Yes, a comet, with the unwieldy name of 67P/Churyumov–Gerasimenko.
Rosetta isn't just a fly-by, but an attempted landing.
Think about the logistics.
It's also the first probe powered solely by solar cells. In order to conserve energy, it went into Deep Sleep mode for 957 days, and it just got the electronic kiss to wake up. Not surprisingly, Mission Control was ecstatic that the probe is still functional and on course.
Maybe the one percent (like the clueless Thomas Perkins I blogged about earlier this week) who don't know what to do will all their ill-gotten billions should stop whining about how much people hate their selfish greedy hubris me-me-me attitude and consider donating some of their fortunes to NASA, which is in desperate need of funding.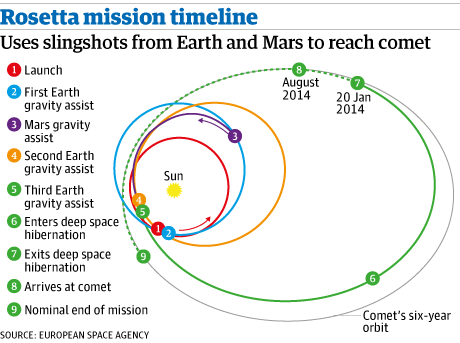 That way, they can be doing good for the universe instead of sitting in their vaults mansions, counting all their chump change money.